Exhibit 99.1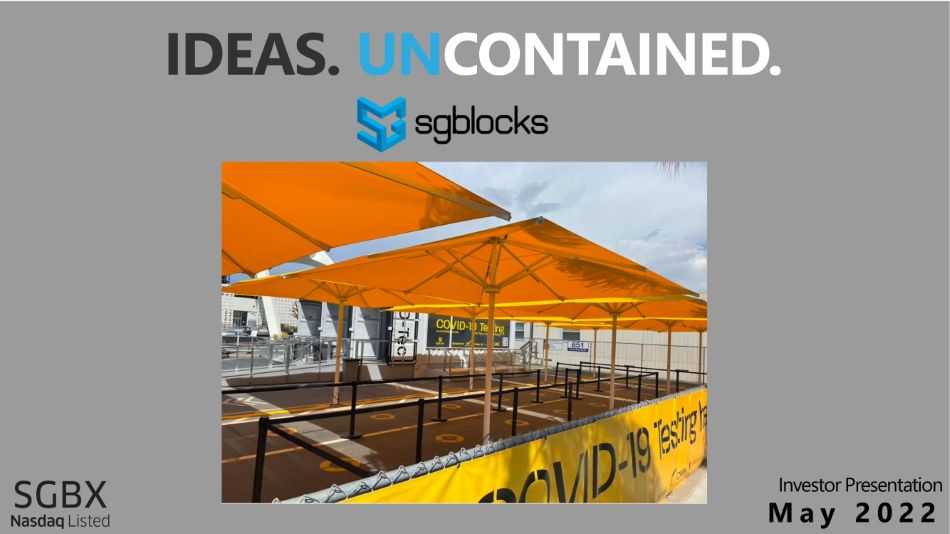 IDEAS. UN CONTAINED. Investor Presentation May 2022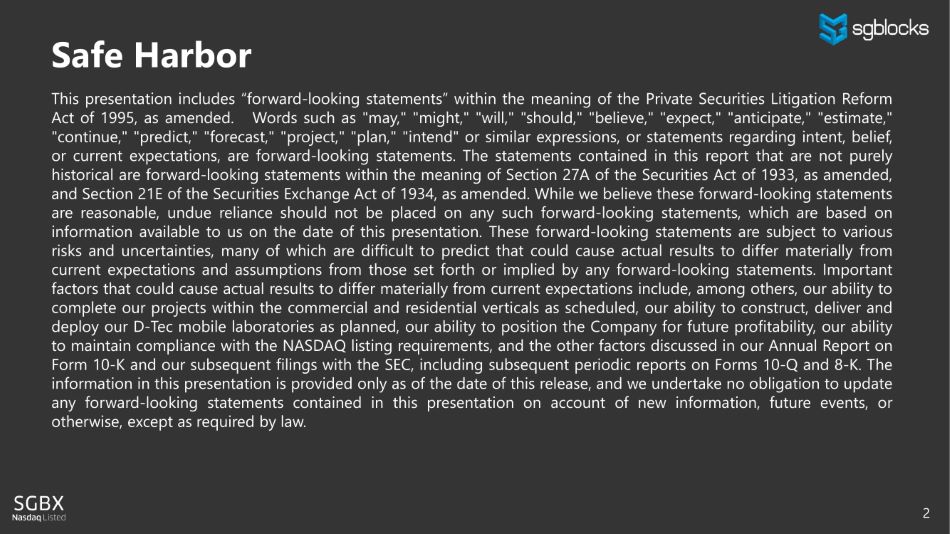 2 Safe Harbor This presentation includes "forward - looking statements" within the meaning of the Private Securities Litigation Reform Act of 1995 , as amended . Words such as "may," "might," "will," "should," "believe," "expect," "anticipate," "estimate," "continue," "predict," "forecast," "project," "plan," "intend" or similar expressions, or statements regarding intent, belief, or current expectations, are forward - looking statements . The statements contained in this report that are not purely historical are forward - looking statements within the meaning of Section 27 A of the Securities Act of 1933 , as amended, and Section 21 E of the Securities Exchange Act of 1934 , as amended . While we believe these forward - looking statements are reasonable, undue reliance should not be placed on any such forward - looking statements, which are based on information available to us on the date of this presentation . These forward - looking statements are subject to various risks and uncertainties, many of which are difficult to predict that could cause actual results to differ materially from current expectations and assumptions from those set forth or implied by any forward - looking statements . Important factors that could cause actual results to differ materially from current expectations include, among others, our ability to complete our projects within the commercial and residential verticals as scheduled, our ability to construct, deliver and deploy our D - Tec mobile laboratories as planned, our ability to position the Company for future profitability, our ability to maintain compliance with the NASDAQ listing requirements, and the other factors discussed in our Annual Report on Form 10 - K and our subsequent filings with the SEC, including subsequent periodic reports on Forms 10 - Q and 8 - K . The information in this presentation is provided only as of the date of this release, and we undertake no obligation to update any forward - looking statements contained in this presentation on account of new information, future events, or otherwise, except as required by law .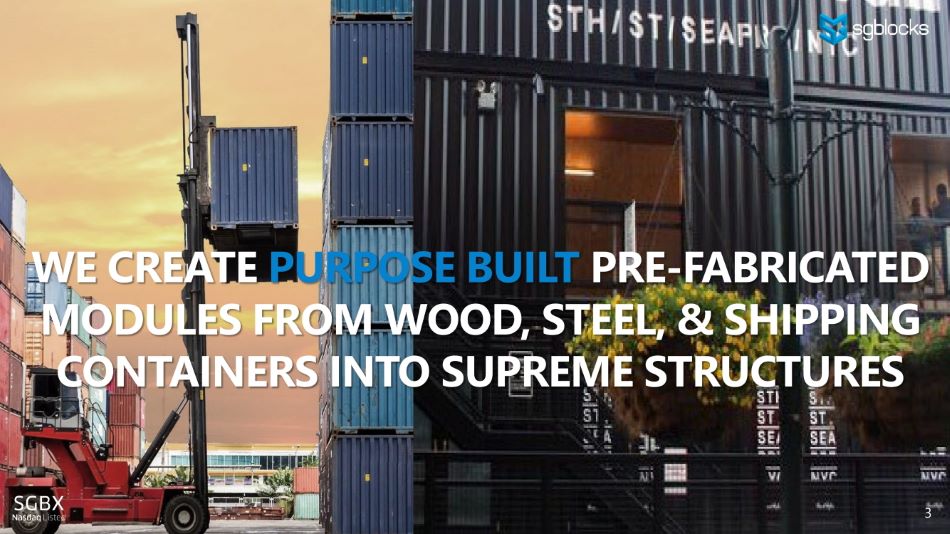 3 WE CREATE PURPOSE BUILT PRE - FABRICATED MODULES FROM WOOD, STEEL, & SHIPPING CONTAINERS INTO SUPREME STRUCTURES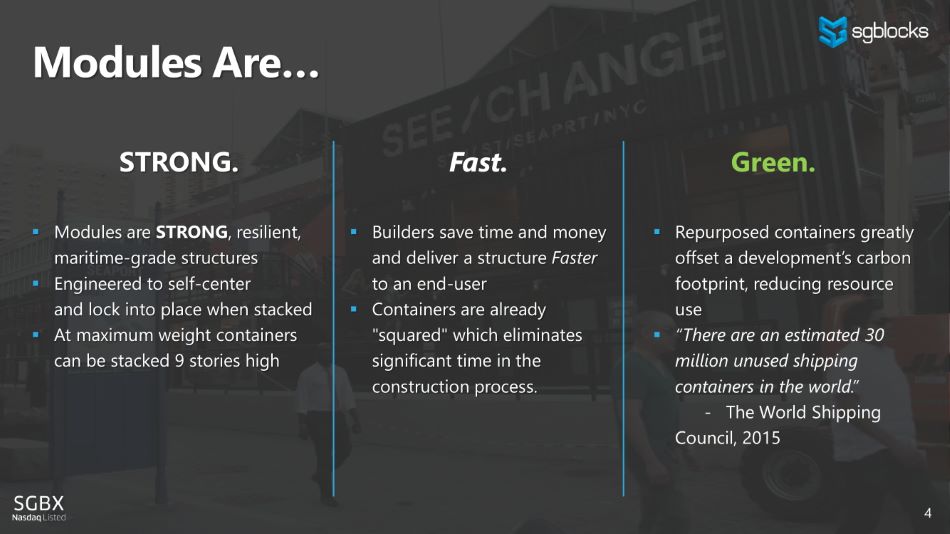 4 Modules Are… STRONG. Fast. Green. ▪ Modules are STRONG , resilient, maritime - grade structures ▪ Engineered to self - center and lock into place when stacked ▪ At maximum weight containers can be stacked 9 stories high ▪ Builders save time and money and deliver a structure Faster to an end - user ▪ Containers are already "squared" which eliminates significant time in the construction process. ▪ Repurposed containers greatly offset a development's carbon footprint, reducing resource use ▪ "There are an estimated 30 million unused shipping containers in the world." - The World Shipping Council, 2015 4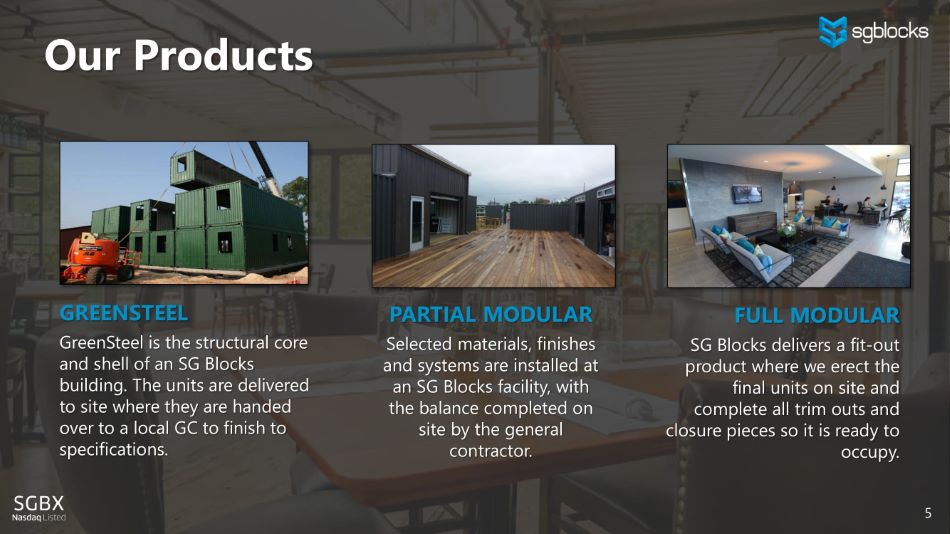 5 Our Products GREENSTEEL GreenSteel is the structural core and shell of an SG Blocks building. The units are delivered to site where they are handed over to a local GC to finish to specifications. PARTIAL MODULAR Selected materials, finishes and systems are installed at an SG Blocks facility, with the balance completed on site by the general contractor. FULL MODULAR SG Blocks delivers a fit - out product where we erect the final units on site and complete all trim outs and closure pieces so it is ready to occupy. 5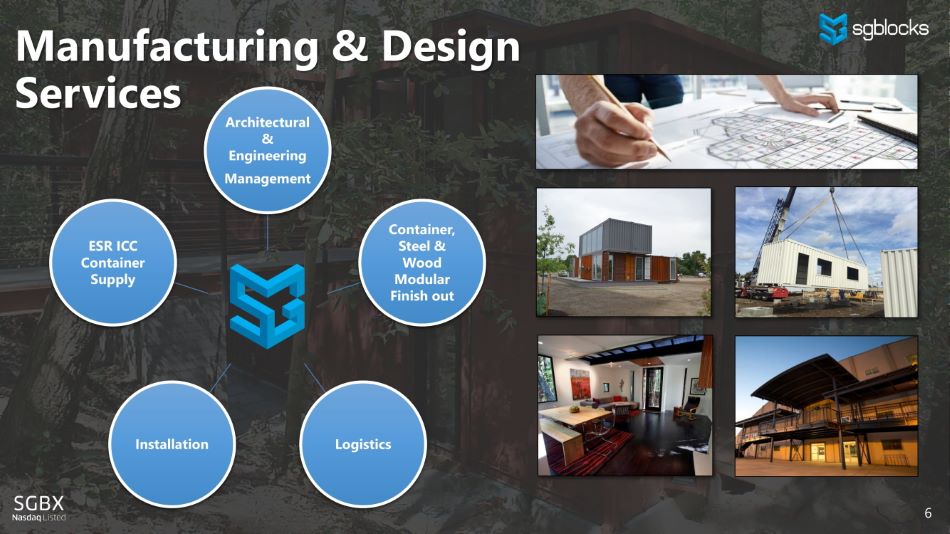 6 Manufacturing & Design Services Architectural & Engineering Management Container, Steel & Wood Modular Finish out Logistics Installation ESR ICC Container Supply 6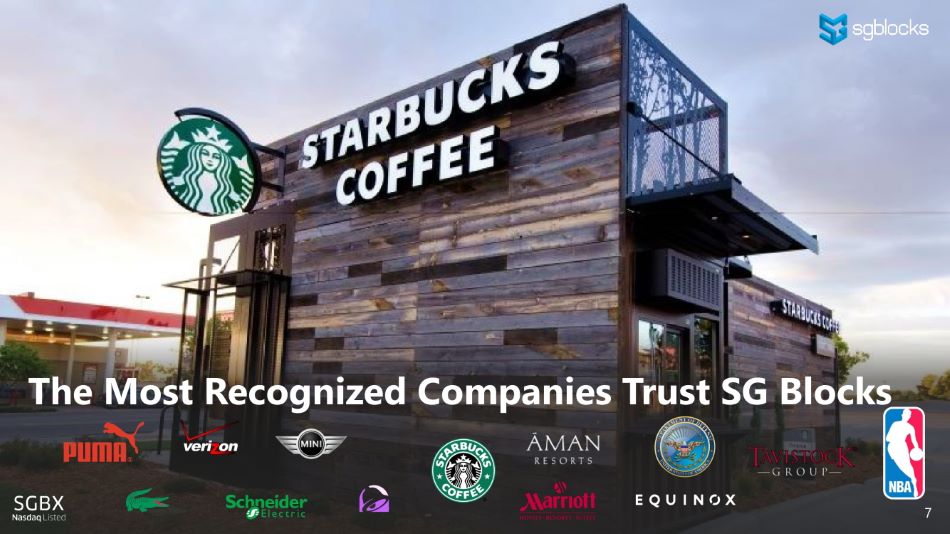 The Most Recognized Companies Trust SG Blocks 7
8 Targeting Large Verticals for Sustainable Growth Actively pursuing a large number of new opportunities in existing and new markets $90.3B (1) Market Opportunity $85.6B (2) Market Opportunity Commercial Construction Global Modular Construction POC Diagnostic Market by 2027 Established base of business in key vertical markets… 1. Value of U.S. commercial construction 2021 | Statista: $90.3 billion in 2021 2. The global modular construction market size is projected to grow from $85.6 billion in 2021 to $140 billion by 2028, a CAGR o f 6.4% (grandviewresearch.com): $85.6 billion in 2021 3. Point of care (POC) Diagnostics Market Size, Trends is projected to grow from $30.5 billion in 2021 to $35.7 billion in 2028, a CAGR of 3.3% | Report 2028 (grandviewresearch.com): $30.5 billion in 2021 4. https://www.breitbart.com/economy/2021/03/01/construction - spending - booms - single - family - homes - up - 24 - 2/ $30.5B (3) Market Opportunity $713.0B (4) Market Opportunity Single Family Housing 8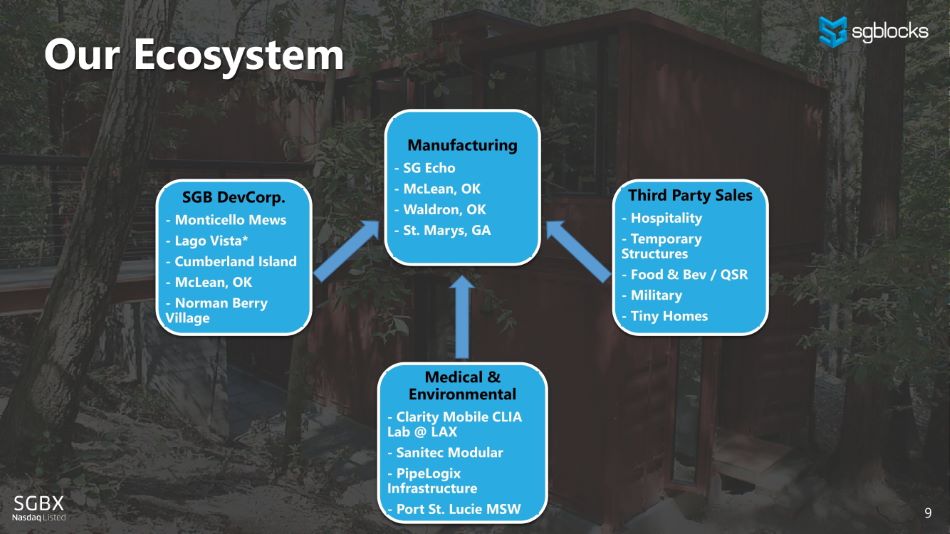 9 Our Ecosystem 9 SGB DevCorp. - Monticello Mews - Lago Vista* - Cumberland Island - McLean, OK - Norman Berry Village Manufacturing - SG Echo - McLean, OK - Waldron, OK - St. Marys, GA Third Party Sales - Hospitality - Temporary Structures - Food & Bev / QSR - Military - Tiny Homes Medical & Environmental - Clarity Mobile CLIA Lab @ LAX - Sanitec Modular - PipeLogix Infrastructure - Port St. Lucie MSW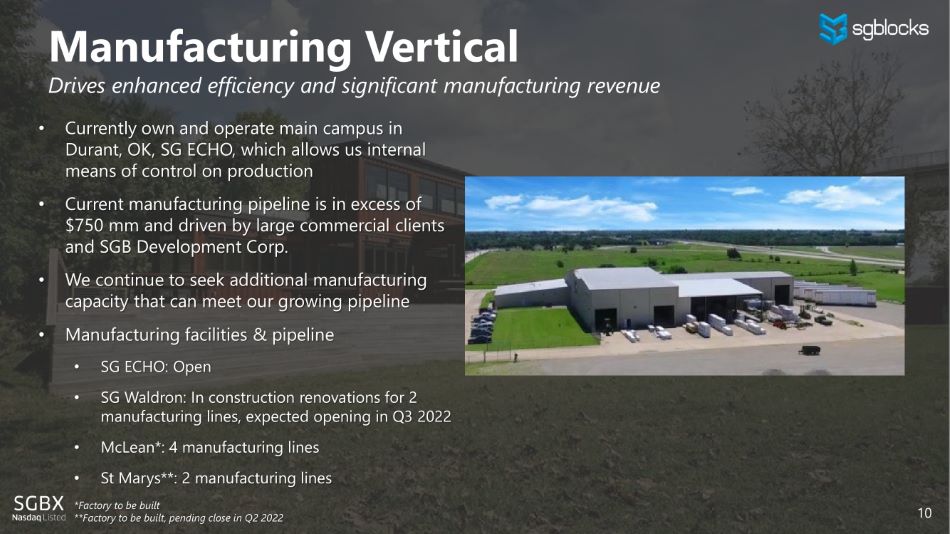 10 • Currently own and operate main campus in Durant, OK, SG ECHO, which allows us internal means of control on production • Current manufacturing pipeline is in excess of $750 mm and driven by large commercial clients and SGB Development Corp. • We continue to seek additional manufacturing capacity that can meet our growing pipeline • Manufacturing facilities & pipeline • SG ECHO: Open • SG Waldron: In construction renovations for 2 manufacturing lines, expected opening in Q3 2022 • McLean*: 4 manufacturing lines • St Marys**: 2 manufacturing lines *Factory to be built **Factory to be built, pending close in Q2 2022 Manufacturing Vertical Drives enhanced efficiency and significant manufacturing revenue 10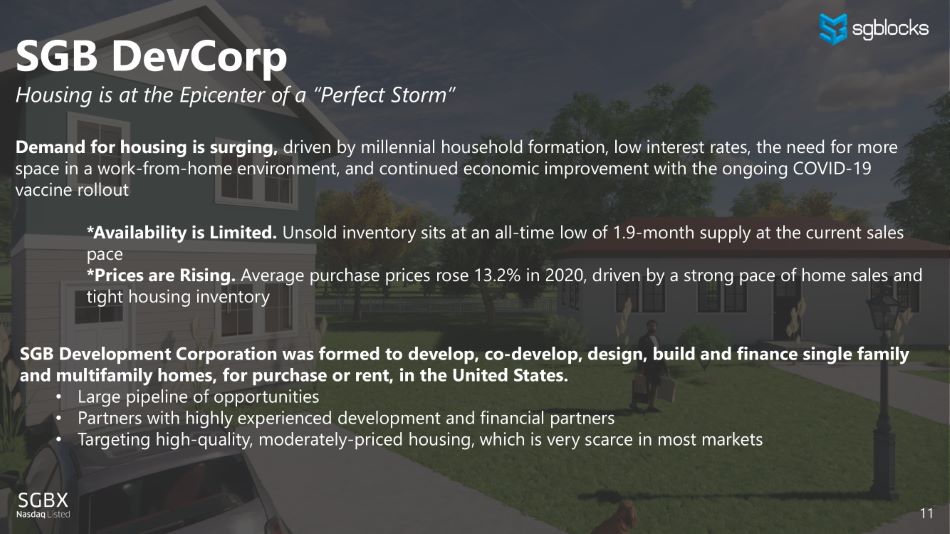 11 Demand for housing is surging, driven by millennial household formation, low interest rates, the need for more space in a work - from - home environment, and continued economic improvement with the ongoing COVID - 19 vaccine rollout *Availability is Limited. Unsold inventory sits at an all - time low of 1.9 - month supply at the current sales pace *Prices are Rising. Average purchase prices rose 13.2% in 2020, driven by a strong pace of home sales and tight housing inventory SGB DevCorp Housing is at the Epicenter of a "Perfect Storm" 11 SGB Development Corporation was formed to develop, co - develop, design, build and finance single family and multifamily homes, for purchase or rent, in the United States. • Large pipeline of opportunities • Partners with highly experienced development and financial partners • Targeting high - quality, moderately - priced housing, which is very scarce in most markets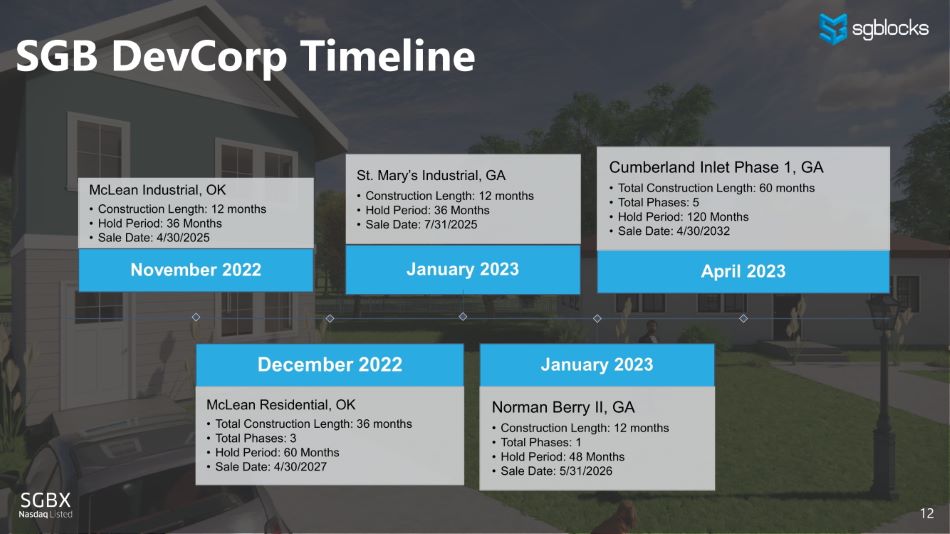 12 SGB DevCorp Timeline 12 November 2022 McLean Industrial, OK • Construction Length: 12 months • Hold Period: 36 Months • Sale Date: 4/30/2025 December 2022 McLean Residential, OK • Total Construction Length: 36 months • Total Phases: 3 • Hold Period: 60 Months • Sale Date: 4/30/2027 January 2023 St. Mary's Industrial, GA • Construction Length: 12 months • Hold Period: 36 Months • Sale Date: 7/31/2025 January 2023 Norman Berry II, GA • Construction Length: 12 months • Total Phases: 1 • Hold Period: 48 Months • Sale Date: 5/31/2026 April 2023 Cumberland Inlet Phase 1, GA • Total Construction Length: 60 months • Total Phases: 5 • Hold Period: 120 Months • Sale Date: 4/30/2032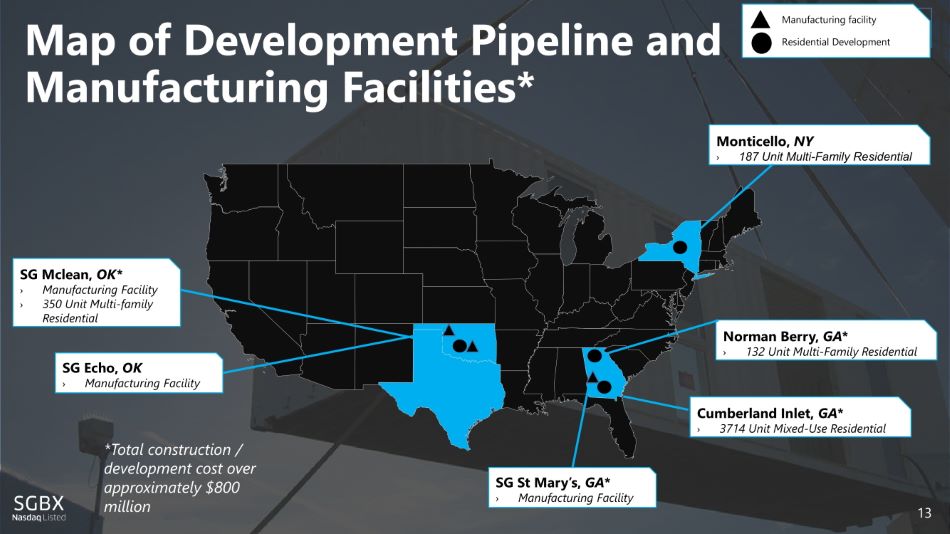 13 13 Map of Development Pipeline and Manufacturing Facilities* SG Mclean, OK* › Manufacturing Facility › 350 Unit Multi - family Residential SG Echo, OK › Manufacturing Facility SG St Mary's, GA* › Manufacturing Facility Cumberland Inlet, GA* › 3714 Unit Mixed - Use Residential Norman Berry, GA* › 132 Unit Multi - Family Residential Monticello, NY › 187 Unit Multi - Family Residential Manufacturing facility Residential Development *Total construction / development cost over approximately $800 million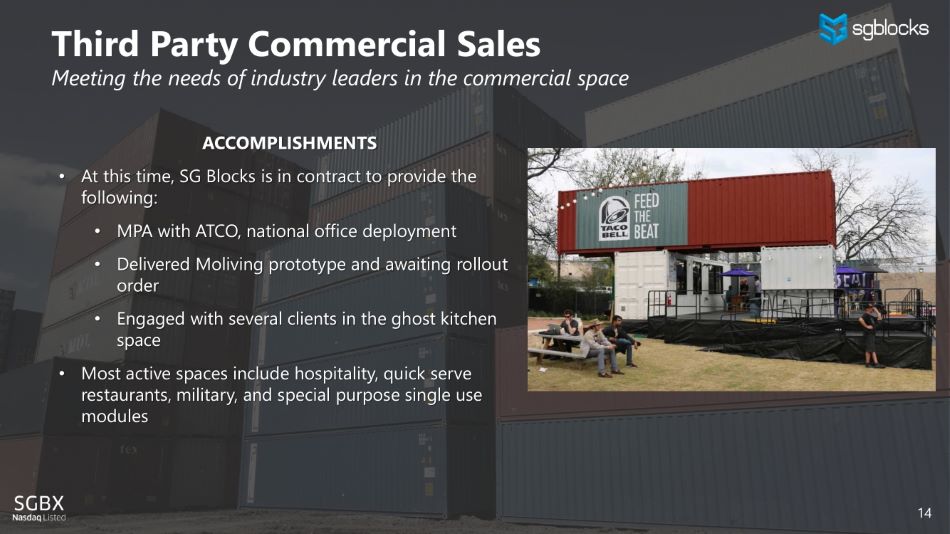 14 14 Third Party Commercial Sales Meeting the needs of industry leaders in the commercial space ACCOMPLISHMENTS • At this time, SG Blocks is in contract to provide the following: • MPA with ATCO, national office deployment • Delivered Moliving prototype and awaiting rollout order • Engaged with several clients in the ghost kitchen space • Most active spaces include hospitality, quick serve restaurants, military, and special purpose single use modules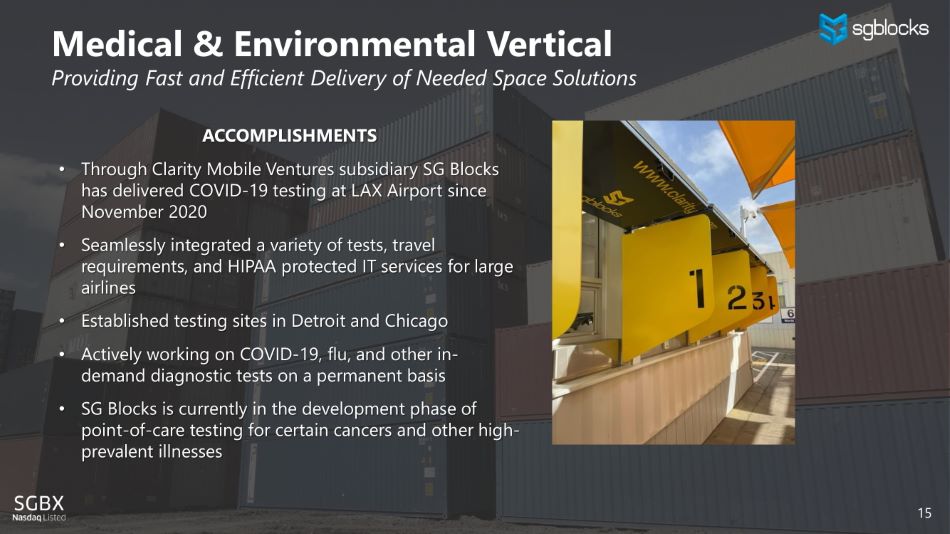 15 15 Medical & Environmental Vertical Providing Fast and Efficient Delivery of Needed Space Solutions ACCOMPLISHMENTS • Through Clarity Mobile Ventures subsidiary SG Blocks has delivered COVID - 19 testing at LAX Airport since November 2020 • Seamlessly integrated a variety of tests, travel requirements, and HIPAA protected IT services for large airlines • Established testing sites in Detroit and Chicago • Actively working on COVID - 19, flu, and other in - demand diagnostic tests on a permanent basis • SG Blocks is currently in the development phase of point - of - care testing for certain cancers and other high - prevalent illnesses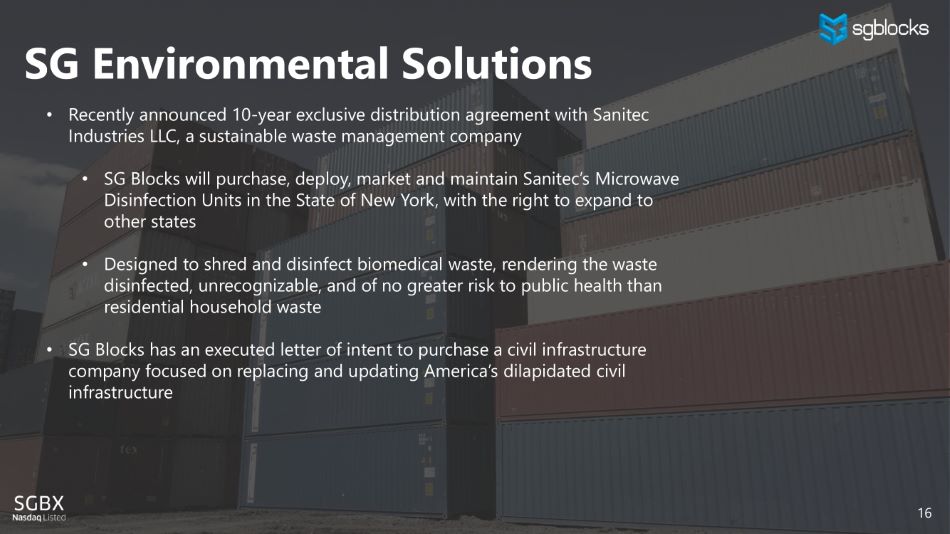 16 16 SG Environmental Solutions • Recently announced 10 - year exclusive distribution agreement with Sanitec Industries LLC, a sustainable waste management company • SG Blocks will purchase, deploy, market and maintain Sanitec's Microwave Disinfection Units in the State of New York, with the right to expand to other states • Designed to shred and disinfect biomedical waste, rendering the waste disinfected, unrecognizable, and of no greater risk to public health than residential household waste • SG Blocks has an executed letter of intent to purchase a civil infrastructure company focused on replacing and updating America's dilapidated civil infrastructure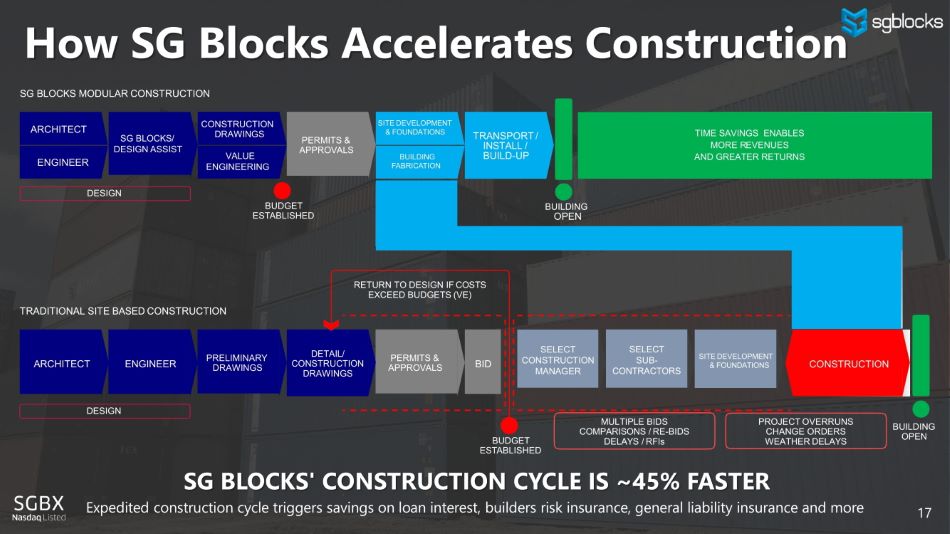 How SG Blocks Accelerates Construction SITE DEVELOPMENT & FOUNDATIONS TRANSPORT / INSTALL / BUILD - UP DESIGN ARCHITECT PRELIMINARY DRAWINGS DETAIL/ CON S TRU C TION DRAWINGS BID SELECT CON S TRU C TION MANAGER SELE C T SUB - CONTRACTORS ENGINEER ENGINEER ARCHITE C T SG BLOCKS/ DESIGN ASSIST PERMITS & APPR O V A L S BUILDING F ABRI C A TION VALUE ENGINEERING CON S TRU C TION DRAWINGS PERMITS & APPR O V A L S BUDGET E S T ABLISHED SITE DEVELOPMENT & FOUNDATIONS RETURN TO DESIGN IF COSTS EXCEED BUDGETS (VE) PROJECT OVERRUNS CHANGE ORDERS WEATHER DELAYS MULTIPLE BIDS COMPARISONS / RE - BIDS DELAYS / RFIs BUDGET E S T ABLISHED BUILDING OPEN BUILDING OPEN DESIGN CONSTRUCTION TIME SAVINGS ENABLES MORE R EVENUES AND GREATER R ETURNS TRADITIONAL SITE BASED CONSTRUCTION SG BLOCKS MODULAR CONSTRUCTION SG BLOCKS' CONSTRUCTION CYCLE IS ~45% FASTER Expedited construction cycle triggers savings on loan interest, builders risk insurance, general liability insurance and more 17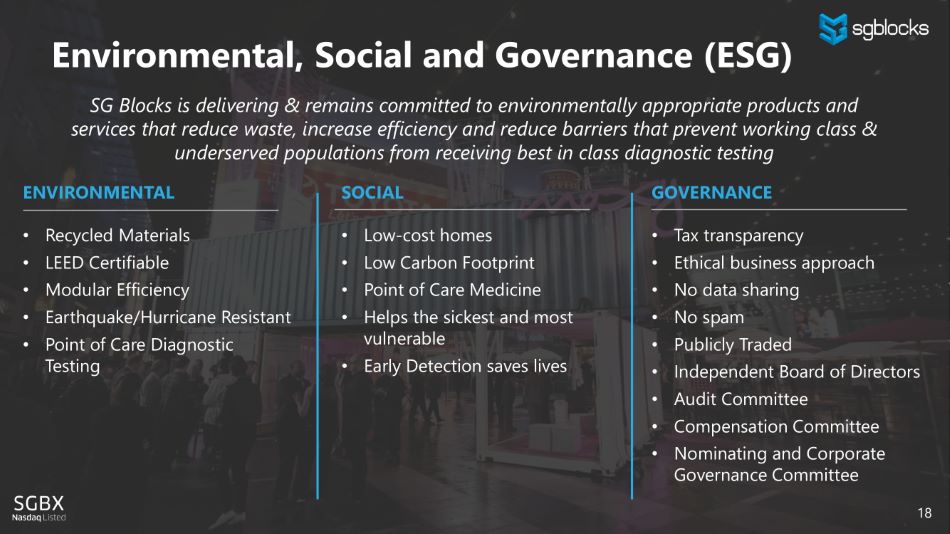 Environmental, Social and Governance (ESG) SG Blocks is delivering & remains committed to environmentally appropriate products and services that reduce waste, increase efficiency and reduce barriers that prevent working class & underserved populations from receiving best in class diagnostic testing ENVIRONMENTAL • Recycled Materials • LEED Certifiable • Modular Efficiency • Earthquake/Hurricane Resistant • Point of Care Diagnostic Testing SOCIAL • Low - cost homes • Low Carbon Footprint • Point of Care Medicine • Helps the sickest and most vulnerable • Early Detection saves lives GOVERNANCE • Tax transparency • Ethical business approach • No data sharing • No spam • Publicly Traded • Independent Board of Directors • Audit Committee • Compensation Committee • Nominating and Corporate Governance Committee 18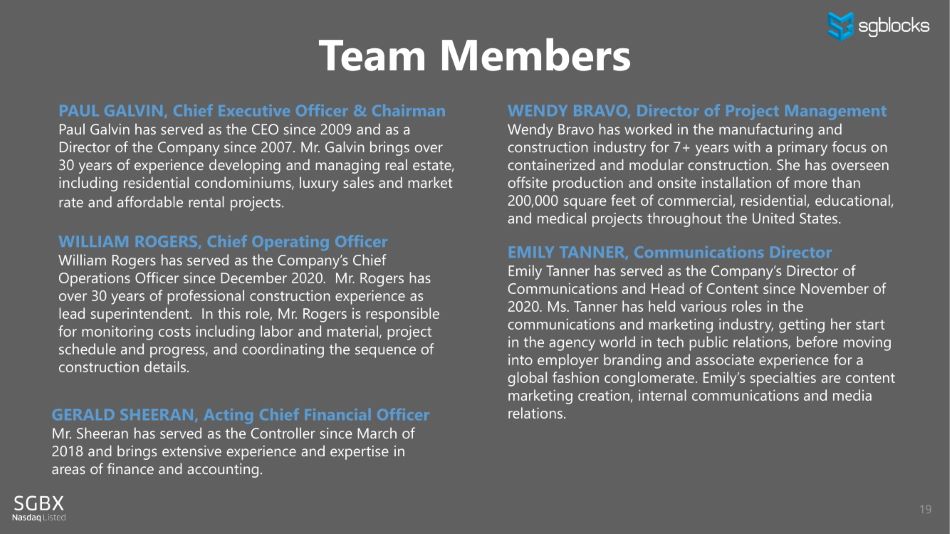 Team Members PAUL GALVIN, Chief Executive Officer & Chairman Paul Galvin has served as the CEO since 2009 and as a Director of the Company since 2007. Mr. Galvin brings over 30 years of experience developing and managing real estate, including residential condominiums, luxury sales and market rate and affordable rental projects. GERALD SHEERAN, Acting Chief Financial Officer Mr. Sheeran has served as the Controller since March of 2018 and brings extensive experience and expertise in areas of finance and accounting. WILLIAM ROGERS, Chief Operating Officer William Rogers has served as the Company's Chief Operations Officer since December 2020. Mr. Rogers has over 30 years of professional construction experience as lead superintendent. In this role, Mr. Rogers is responsible for monitoring costs including labor and material, project schedule and progress, and coordinating the sequence of construction details. WENDY BRAVO, Director of Project Management Wendy Bravo has worked in the manufacturing and construction industry for 7+ years with a primary focus on containerized and modular construction. She has overseen offsite production and onsite installation of more than 200,000 square feet of commercial, residential, educational, and medical projects throughout the United States. 19 EMILY TANNER, Communications Director Emily Tanner has served as the Company's Director of Communications and Head of Content since November of 2020. Ms. Tanner has held various roles in the communications and marketing industry, getting her start in the agency world in tech public relations, before moving into employer branding and associate experience for a global fashion conglomerate. Emily's specialties are content marketing creation, internal communications and media relations.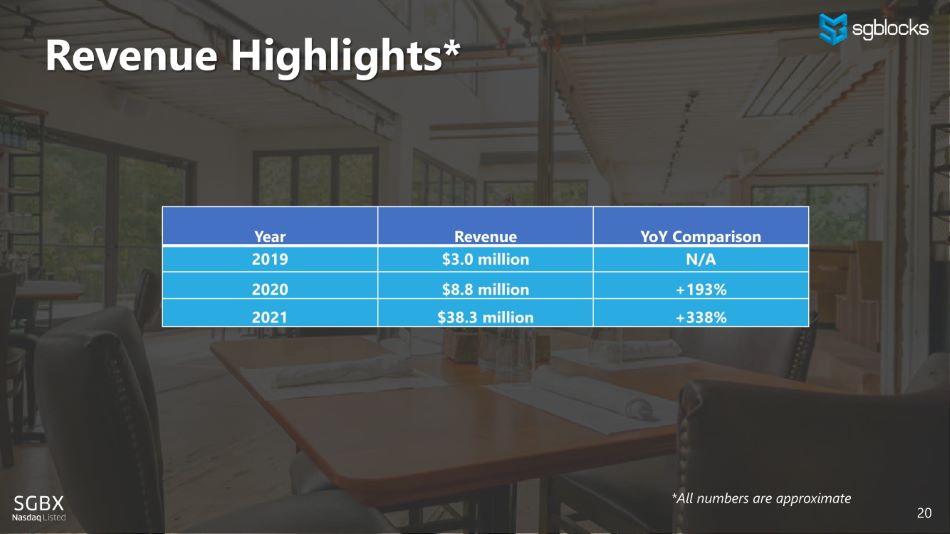 20 Revenue Highlights* Year Revenue YoY Comparison 2019 $3.0 million N/A 2020 $8.8 million +193% 2021 $38.3 million +338% 20 *All numbers are approximate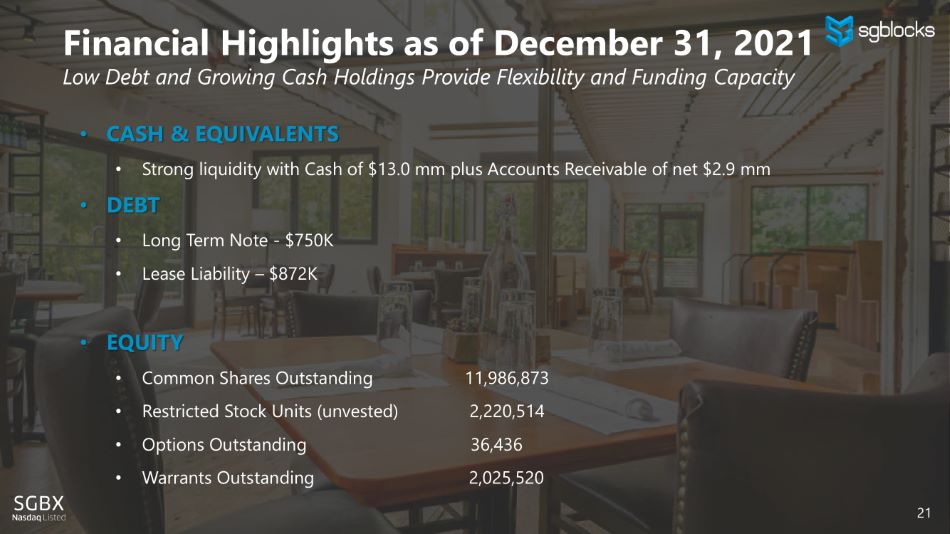 21 21 • CASH & EQUIVALENTS • Strong liquidity with Cash of $13.0 mm plus Accounts Receivable of net $2.9 mm • DEBT • Long Term Note - $750K • Lease Liability – $872K • EQUITY • Common Shares Outstanding 11,986,873 • Restricted Stock Units (unvested) 2,220,514 • Options Outstanding 36,436 • Warrants Outstanding 2,025,520 Financial Highlights as of December 31, 2021 Low Debt and Growing Cash Holdings Provide Flexibility and Funding Capacity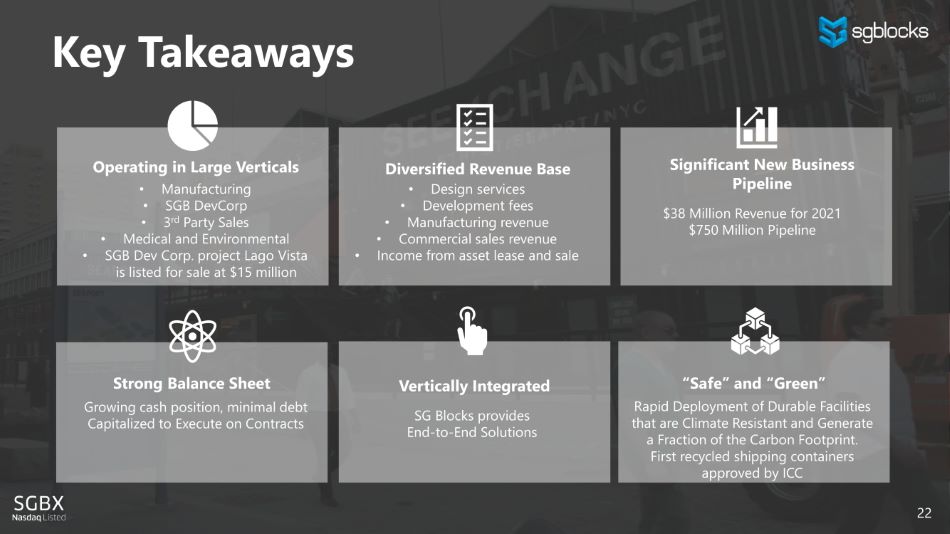 22 Key Takeaways 22 • Manufacturing • SGB DevCorp • 3 rd Party Sales • Medical and Environmental • SGB Dev Corp. project Lago Vista is listed for sale at $15 million Operating in Large Verticals • Design services • Development fees • Manufacturing revenue • Commercial sales revenue • Income from asset lease and sale Diversified Revenue Base $38 Million Revenue for 2021 $750 Million Pipeline Significant New Business Pipeline Growing cash position, minimal debt Capitalized to Execute on Contracts Strong Balance Sheet SG Blocks provides End - to - End Solutions Vertically Integrated Rapid Deployment of Durable Facilities that are Climate Resistant and Generate a Fraction of the Carbon Footprint. First recycled shipping containers approved by ICC "Safe" and "Green"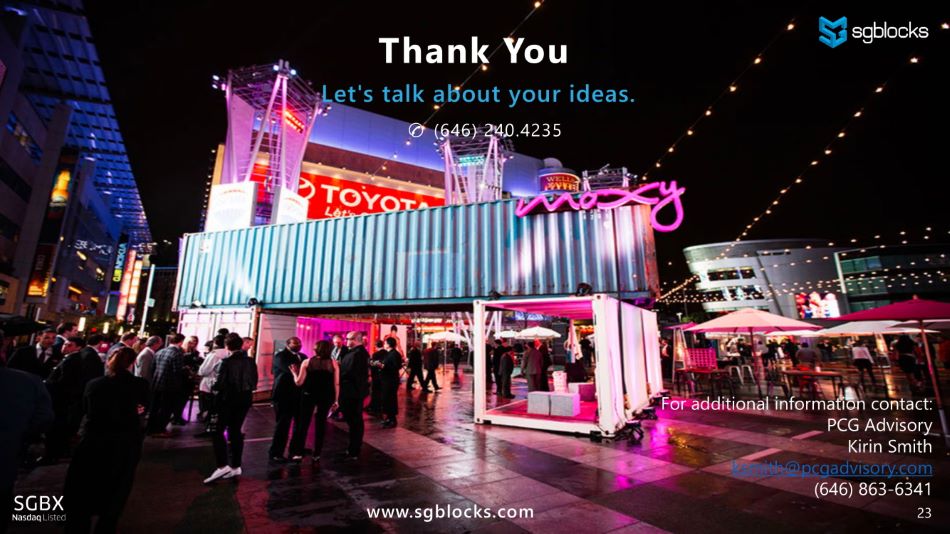 23 Thank You Let's talk about your ideas. ✆ (646) 240.4235 23 www.sgblocks.com For additional information contact: PCG Advisory Kirin Smith ksmith@pcgadvisory.com (646) 863 - 6341